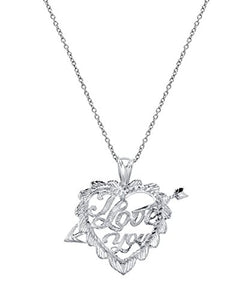 Sterling Silver I Love You Heart Pendant Necklace, 18"
Regular price $29.99 Sale
Sterling silver "I Love You" pendant necklace. Purchase includes 18" Itlaian cable chain necklace.

Made in sterling silver with a high polish finish. All our sterling merchandise is made to FTC standards and may be covered in a nickel free sterling finish to improve shine, durability, and longevity.

Enjoy the ease of our SA 30 program. Every purchase from Silver America comes with free continental U.S. shipping, 30-day money back return policy, and a limited lifetime warranty.

Made in the USA and on premises in our Los Angeles facility, we guarantee all our items have been alloyed and manufactured correctly. This means that no part of the Silver America jewelry manufacturing process is outsourced.

With every purchase through our store, you get our Silver America promise. Silver America guarantees all items are delivered as pictured and we guarantee our gemstones and diamonds are sourced from conflict-free Kimberly approved sources.