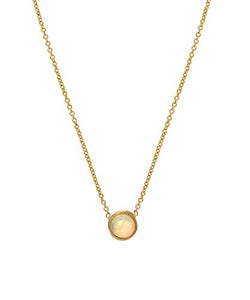 14 Karat Yellow Gold and Fire Opal Orb Necklace
Regular price $199.99 Sale
Modern and minimal design that is perfect for everyday wear. Our opal orb necklace features a 0.30-carat opal handset onto a 14 karat yellow gold minimal and sleek bezel setting.

Opal is known as the lightning stone the stone contains various hues ranging from dark orange to bright green. The Ethiopian opal flashes these colors like bursts of fire. Our Ethiopian opals are not dyed or heat treated but may be oiled.

Enjoy the ease of our SA 30 program. Every purchase from Silver America comes with free continental U.S. shipping, a 30-day money back return policy, and a limited lifetime warranty.

Made in the USA and on premises in our Los Angeles facility, we guarantee all our items have been alloyed and manufactured correctly. This means that no part of the Silver America jewelry manufacturing process is outsourced.

With every purchase through our store, you get our Silver America promise. Silver America guarantees all items are delivered as pictured and we gurantee our gemstones and diamonds are sourced from conflict-free Kimberly approved sources.